Customer Reviews
AK
01/23/2021
Alexandra K.

United States
Gah! The Best!
I became infatuated with these dresses in 2019 and have been excitedly following their journey since. I was lucky enough to snag one of the 2020 dresses in Russet before they sold out and, not to rub it in for anyone who was less lucky, WOW! I'm so very into this color and the print combo, very on trend and super flattering (Mallory has a knack for picking some great colors). The updates to the dress, the raising of the pocket and removal of some extra fabric under the arms, are great. I am 5'8" and about 130lbs, I usually wear a 2/4 and I opted to go with size small despite recommendations to size down. Personally, I like the slightly loose fit that the small offers (I have the hoodie in XS but stand by my decision), enough room to wear something else under if I want to use the dress as more of a sweater layer. This is definitely the primo dress for non-summer dog walking, cross country skiing, early spring gardening, you name it. I look forward to next season and am hopeful that the rocky road to production gets smoother so that they can ramp it back up, I hope to snag some as gifts next year (I think my mom and sisters need these)! On another note, I would love to see these dresses become popular that they can someday be offered with and without the hood.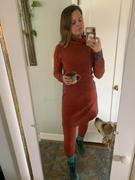 01/23/2021
Mary S.

United States
Like being wrapped in a blanket!
This dress is so cozy and fits perfectly! The thumbholes, hood and kangaroo pocket make it the perfect, functional dress. The color is beautiful and the topo print on the side matches with everything too. I want to wear it every day!
01/22/2021
Anonymous

United States
Lovely!
It's warm and compfy, and if my baby didn't cover it in goop, I'd wear it for a week straight
01/22/2021
Lester K.

United States
I'm lichen it a lot ;)
My goodness. I'm such a fleece nerd. And a lichen nerd. This is the dress I never knew I needed, until it arrived at my doorstep.
01/21/2021
Carly P.

United States
Loved it right out of the box
The fabric is comfortable and very unique. It's soft while warm. In the summer months I image it's very breezy like the sweaters. The color is very vibrant and the stretch material is not only pretty but forgiving. I purchased my dress in a small. 5'1, 148lbs and 6 months pregnant. The finger holes are so cute along with the arms length and overal leg length is very appropriate to the size small and my height. I image with my postpartum body the dress will remain forgiving and at a good length. Thank you for a beautiful dress. Money well spent.