Customer Reviews
01/22/2021
Anonymous

United States
Lovely!
It's warm and compfy, and if my baby didn't cover it in goop, I'd wear it for a week straight
01/22/2021
Lester K.

United States
I'm lichen it a lot ;)
My goodness. I'm such a fleece nerd. And a lichen nerd. This is the dress I never knew I needed, until it arrived at my doorstep.
01/21/2021
Carly P.

United States
Loved it right out of the box
The fabric is comfortable and very unique. It's soft while warm. In the summer months I image it's very breezy like the sweaters. The color is very vibrant and the stretch material is not only pretty but forgiving. I purchased my dress in a small. 5'1, 148lbs and 6 months pregnant. The finger holes are so cute along with the arms length and overal leg length is very appropriate to the size small and my height. I image with my postpartum body the dress will remain forgiving and at a good length. Thank you for a beautiful dress. Money well spent.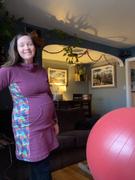 01/21/2021
Anonymous

United States
So soft and so cute!
I love it! I actually had two people stop me the first time I wore it to ask where I got it.
01/21/2021
Jessalyn C.

United States
Everything I Hoped It Would Be
This is very beautiful in person, extremely comfortable, well made and overall a winner. The cut is extremely flattering. I am 5'5" and about 165lbs and ordered a Large and it fits perfectly. Not too oversized but not clingy to anything either. You won't regret this purchase.