Customer Reviews
Write a Review
Ask a Question
08/18/2021
Mara B.

United States
Blown Away (but I shouldn't be surprised)
I wasn't sure about them when I ordered these, my thicc thighs and booty like to eat spandex/biker shorts (sorry for the image but it's true), but I've never been disappointed by Youer/Kind before so I tooo the plunge. HOLY SMOKES. I never want to take them off. I've worn them hiking, biking, lounging, and most recently wore them as sleep shorts for 3 nights and then wore them to a Phish show on the 4th night. The thing that makes these shorts so incredible is the gusset, it goes the whole length (width?) of the short from thigh hole to thigh hole, I do get a hint of ride up but maybe a half inch and then they settle and I'm not constantly having to fuss. They protect from chafe beautifully and are so freaking soft. Initially I thought I'd want them offered in a longer length because most of the other biker shorts that I like are longer and I think these are pretty much perfect maybe an inch longer would be good but they're comfortable and cute!! 10/10 would recommend.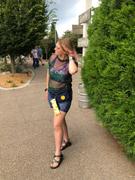 07/21/2021
Liz S.

United States
LOVE
I was hesitant to spend the moola on these shorts, but after asking a friend about Youer products (she was a model for Youer, yay!) she gave a glowing review, so I caved and bought a pair. I am so happy that I did! I've gone rock climbing and trail running in these and they do not ride up at all, praise be! I love the length, no chaffing, and the high waistline for comfort. I also love the side pockets, perfect for my phone and keys while running. I can't wait to see more colors that come out in this style! THANK YOU!
07/20/2021
Kelsey

United States
Can't stop wearing with these shorts
I am usually not a shorts person. They always chafe or don't fit right or are uncomfortable. I was hesitant to purchase these due to the price but let me tell you they are SO worth it. I want another pair when another print comes out. They have amazing pockets that you can run with your phone and barely notice. They stay up. The fabric is so soft and doesn't give you a muffin top. The length is perfect. I have run, paddled, biked, and worked out in these. I can't stop wearing them.
07/06/2021
Brooke F.

United States
06/30/2021
Cristal H.

United States
The Perfect Running Short
I've been on the hunt for the perfect running shorts: the right rise without squeezing my tummy, no wedgies (front or back), long enough inseam to prevent thigh chafe but short enough to be cute and not pull the shorts down, useful pockets, cute color.... etc. Well these are it! I will say I fell in between S & M on the size chart and M is definitely a better fit, so err on the bigger size if you aren't sure.